The Maui Millionaires: Discover the Secrets Behind the World's Most Exclusive Wealth Retreat and Become Financially Free (Hardcover)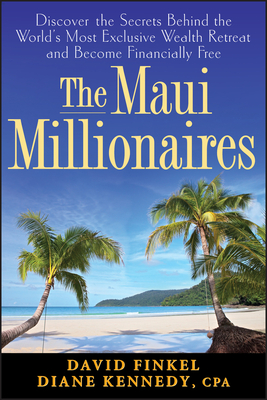 $24.95
Email or call for price.
Description
---
In
The Maui Millionaires,
bestselling authors David Finkel and Diane Kennedy present their practical action plan for growing, maintaining, enjoying, and sharing extraordinary wealth. You'll see how to win the money game, become financially free, and live a lifestyle that will not only increase your income, but also bring you immense happiness and fulfillment. Combining powerful, proven wealth creation strategies with inspiring real-life stories from Maui Millionaires, the authors reveal:
The five essential steps for making your dreams come true
How to make money without working
How to mastermind your way to millions
How to build wealth the right way--fast, balanced, and joyously
Six Ways to create a legacy that lives on beyond you.
About the Author
---
DAVID FINKEL is one of the nation's most respected wealth masters. A former Olympic-level athlete, he is a self-made multimillionaire and the cocreator of Maui Mastermind, the world's most exclusive wealth retreat. He is also the bestselling author of five financial books, including The Real Estate Fast Track, from Wiley, and his how-to financial articles have appeared in periodicals across the United States. DIANE KENNEDY, CPA, is a top financial author and investing expert. She is the founder and owner of DKA, a leading tax strategy and accounting firm. A past recipient of the prestigious Blue Chip Enterprise Award, Kennedy is also the author of Loopholes of the Rich and coauthor of The Insider's Guide to Real Estate Investing Loopholes, both from Wiley.