The Norm Chronicles: Stories and Numbers About Danger and Death (Paperback)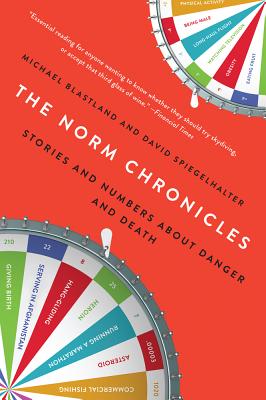 $22.99

Special Order- Usually Ships in 1-5 Days
Description
---
Is it safer to fly or take the train? How dangerous is skydiving? And is eating that extra sausage going to kill you? We've all heard the statistics for risky activities, but what do they mean in the real world? In The Norm Chronicles, journalist Michael Blastland and risk expert David Spiegelhalter explore these questions through the stories of average Norm and an ingenious measurement called the MicroMort-a one in a million chance of dying. They reveal why general anesthesia is as dangerous as a parachute jump, giving birth in the US is nearly twice as risky as in the UK, and that the radiation from eating a banana shaves 3 seconds off your life. An entertaining guide to the statistics of personal risk, The Norm Chronicles will enlighten anyone who has ever worried about the dangers we encounter in our daily lives.
About the Author
---
Michael Blastland is an author, journalist, and BBC Radio 4 broadcaster. He is the author of, with Andrew Dilnot, the popular math books The Tiger that Isn't and The Numbers Game, as well as the memoir The Only Boy in the World.

David Spiegelhalter, OBE, is Winton Professor of the Public Understanding of Risk in the Statistical Laboratory, University of Cambridge. He is a fellow of Churchill College, Cambridge, and the Royal Society.
Praise For…
---
"Amidst the numbers and stories on topics as diverse as infant mortality, travel, extreme sports, and crime, the authors examine just how all of this affects non-theoretical humans….The whole is seasoned with a dash of humor to create a work that should satisfy anyone curious about just how and when this mortal coil might be shuffled off."
—Publishers Weekly

"Tackling a factor in matters ranging from personal choices to public policy, this book's British authors — a journalist and a Cambridge statistician, respectively — make risk easy to understand without omitting its mathematical basis."
—Pittsburgh Tribune-Review

"[The Norm Chronicles] is a truly engaging and attention-grabbing narrative that guides the reader through a multitude of helpful and/or curious statistics."
—Metapsychology

"General readers will appreciate this engaging exploration of statistics and their relevance to daily life."
—Library Journal

"Commendable for its wide compilation of facts and figures—but perhaps even more so for the authors' deep sense of uncertainties around data, statistics, and evidence."
—Kirkus Reviews

"Blastland & Spiegelhalter achieve the amusing feat of bringing mortality data back from the dead. Reading this book will, in all probability, add years to your life."
—Kaiser Fung, author of Numbers Rule Your World and Number Sense

"We have a really tough time understanding absolute, individualized risk—until now. The Norm Chronicles provides a long overdue, systematic, and entertaining dissection of life's risks."
—Eric Topol, M.D., author of The Creative Destruction of Medicine

"In the same manner that the bumblebee disproved the calculations of an earlier time's aerodynamics, so Blastland and Spiegelhalter refute a central tenet of today's science of risk communication: that the meaning of numbers defies the narrative currency of everyday reasoning. Engaging, enlightening stories of probability, they demonstrate, are the most reliable means for transmitting empirical knowledge of the dangers we face and how to abate them."
—Dan Kahan, Professor of Law and Psychology, Yale Law School

"Blastland and Spiegelhalter's The Norm Chronicles is irreverent, poignant, insightful, and just about the best book about risk I've ever read. It's also a paradox—a book about numbers and probabilities that'll keep you hooked to the last page. That shouldn't be possible. Using master story telling and a large dose of humanity, Blastland and Spiegelhalter transform the statistics of danger and death into a celebration of life. It's a rare feat, but one that's as compelling as it is important. This book is essential reading to anyone who has ever faced the possibility of something going wrong, and thought 'what the …?!' Buy it!"
—Andrew Maynard, director, University of Michigan Risk Science Center

"Numbers matter, especially in the face of risk. This book is a powerful remedy for a deadly affliction—innumeracy."
—Paul Slovic, president of Decision Research, and author of The Feeling of Risk

"This engaging, entertaining book clarifies the complicated subject of risk, even as it manages to revel in the complexity. It clears the topic up without dumbing it down. What are the chances?"
—Joel Best, author of Damned Lies and Statistics

"You can read this stuff in a prosecutorial tone of voice, if you like, as many writers on perception of risk have: Look how irrational and wrong everyone is! But the authors take a different tack—a better one. They argue ably that mathematical computations should be a buttress to our judgment but concede that computations will never, and should never, replace our judgment entirely. Of their risk-buffeted characters, they conclude: 'We don't know how to use data to tell them how to live.' If they don't, no one does."
—The Wall Street Journal

"A cheerfully subversive variation on the genre. Chapter by chapter … [The Norm Chronicles] does an energetic and laudable job of stretching the mind."
—The New York Times

"They teach us how math helps us sensibly assess and manage risk. Just remember: You can crunch the numbers as much as you like, but when it comes down to any given individual, chance always plays a part."
—The New York Times Book Review