Zen Camera: Creative Awakening with a Daily Practice in Photography (Hardcover)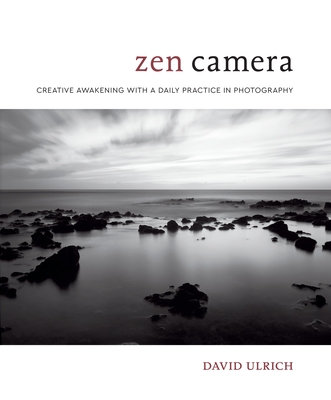 $22.00

Special Order- Usually Ships in 1-5 Days
Description
---
Zen Camera is an unprecedented photography practice that guides you to the creativity at your fingertips, calling for nothing more than your vision and any camera, even the one embedded in your phone.

David Ulrich draws on the principles of Zen practice as well as forty years of teaching photography to offer six profound lessons for developing your self-expression. Doing for photography what The Artist's Way and Drawing on the Right Side of the Brain did for their respective crafts, Zen Camera encourages you to build a visual journaling practice called your Daily Record in which photography can become a path of self-discovery. Beautifully illustrated with 83 photographs, its insights into the nature of seeing, art, and personal growth allow you to create photographs that are beautiful, meaningful, and uniquely your own.

You'll ultimately learn to change the way you interact with technology—transforming it into a way to uncover your innate power of attention and mindfulness, to see creatively, and to live authentically.
About the Author
---
DAVID ULRICH is a professor and co-director of Pacific New Media Foundation in Honolulu, Hawai'i. He teaches frequent classes and workshops, and is an active photographer and writer whose work has been published in numerous books and journals including Aperture, Manoa, and Sierra Club publications. Ulrich's photographs have been exhibited internationally in more than 75 one-person and group exhibitions. He blogs about creativity and consciousness at www.theslenderthread.org, and is a consulting editor for Parabola magazine. Visit his website at: www.creativeguide.com.
Praise For…
---
"David Ulrich does an amazing job of fusing the basic concepts of Buddhist presence and concentration with the quiet art of photography. It's not surprising, because the two have much in common—silence, stillness, reflection, presence—and this book weaves those common threads adeptly. One of the things that most struck me while reading the book is that Ulrich has managed to create a fine arts book that is accessible to all." —thetattooedbuddha.com

"A never-before-seen photography practice that helps artists to channel their inner creativity using nothing more than their vision and a camera – even a phone camera will do." – Signature Reads
 
"Zen Camera is to photographers what The Artist's Way is to writers. This master class in creativity deserves a place in your home – I highly recommend this book!" – Create with Joy 
 
"Ulrich…offers a deeper look at creating and capturing images — by sharing practices that can help us bring a level of presence to both the process and resulting image." Books for Better Living
 
"Whether you're a newbie, amateur photographer, or seasoned professional, this book will help you cultivate creativity with a camera and in all areas of your life." – Lion's Roar
 
"Zen Camera is a well written and informative guide to taking better pictures… Recommended for those wanting to improve their photographic eye." – Evilcyclist blog
 
"We have to be able to sit and think about one thing for a long period of time.  This stillness, this ability to think and contemplate, is key to Ulrich's philosophy regarding photography." -- Resource Magazine

"Zen Camera gets real about what it takes to master the art of photography. In six compelling lessons, Ulrich guides us through a series of tasks to purify our seeing and allow our original self to emerge. The prize: To create authentic and meaningful work with resonating presence." —Philippe L. Gross, Ph.D., The Tao of Photography: Seeing Beyond Seeing

"Whether you ultimately take up photography or not, Zen Camera will allow you to see the world with a soulful new perspective. It will open your eyes to the wonder and magic that exists in this world! And who knows, it might just inspire you to embark on a wonderfully fulfilling photography practice." –Agapi Stassinopoulos, author of Wake Up to the Joy of You

"Zen Camera gently nudges us to realize, in each moment, that our world is nothing like ordinary; it is dramatic and mesmerizing and constantly offers us transcendental imagery if we just remember to truly see and click!" –Elaine Clayton, artist and author of Making Marks: Discover the Art of Intuitive Drawing

"The most important lesson I learned was in a photography class with David Ulrich, who taught me that I had something to say. It was life changing. I'll never forget David's generosity of spirit and how it transformed the course of my life." —Lydia Panas, photographer and author of The Mark of Abel and Falling from Grace