Atlas of the Invisible: Maps and Graphics That Will Change How You See the World (Hardcover)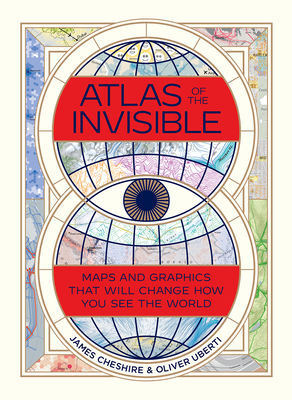 $40.00

Special Order- Usually Ships in 1-5 Days
Description
---
Winner of the 2021 Globe Book Award for Public Understanding of Geography awarded by the American Association of Geographers



An unprecedented portrait of the hidden patterns in human society—visualized through the world of data.
Award-winning geographer-designer team James Cheshire and Oliver Uberti transform enormous datasets into rich maps and cutting-edge visualizations. In this triumph of visual storytelling, they uncover truths about our past, reveal who we are today, and highlight what we face in the years ahead. With their joyfully inquisitive approach, Cheshire and Uberti explore happiness levels around the globe, trace the undersea cables and cell towers that connect us, examine hidden scars of geopolitics, and illustrate how a warming planet affects everything from hurricanes to the hajj. Years in the making, Atlas of the Invisible invites readers to marvel at the promise and peril of data, and to revel in the secrets and contours of a newly visible world.
Winner of the 2021 British Cartographic Society Awards including the Stanfords Award for Printed Mapping and the John C. Bartholomew Award for Thematic Mapping.
About the Author
---
James Cheshire is professor of geographic information and cartography at University College London.

Oliver Uberti is a Los Angeles–based designer and a former design editor for National Geographic.
Praise For…
---
Atlas of the Invisible is full of mind-blowing maps that harness the power of data to tell us something about ourselves and our planet.

— Hannah Fry, Professor in the Mathematics of Cities and author of The Complete Guide to Absolutely Everything

Fantastic…a magical combo of art and graphic gut-punch.
— Dave Eggers

Page after page, graphic after graphic and text after text, Atlas of the Invisible erupts with a kind of rigorous wonder. Laying out patterns on everything from nomenclature to bike-sharing to unexploded ordnance, Cheshire and Uberti examine data sets you never even thought of in the interest of developing a portrait of the world as it is. The result is a strange and startling masterpiece.

— Matthew Specktor, author of American Dream Machine

A stone cold act of genius.
— Dan Snow, HistoryHit

Spectacular and truly Humboldtian.
— Andrea Wulf, author of The Invention of Nature

James Cheshire and Oliver Uberti's extraordinary new book, Atlas of the Invisible transforms our understanding of our human selves, other lives on earth, and the planet we share. Packed with revelatory insights, the book is a masterful example of the power of compelling visual storytelling to reveal – from within the complexities of modern data chaos – meaning and knowledge otherwise hidden from view.

— B. Natterson-Horowitz, MD, bestselling author of Zoobiquity

An absolute visual delight.
— Manuel Lima, author of The Book of Circles: Visualizing Spheres of Knowledge

If you're into #dataViz, you *need* to have this one… Every page reveals a surprise.
— Alberto Cairo, Knight Chair in Visual Journalism at the University of Miami and author of How Charts Lie

Gorgeous… Digging [through] troves of data, [Cheshire and Uberti] paint an essential portrait of Where We've Been, Who We Are, & How We're Doing. Imagine Morpheus explaining The Matrix to you—only he's also a BRILLIANT graphic designer.

— Minh Lê, bestselling author of Lift, Drawn Together, on Twitter

Stunning.
— Valerie Trouet, author of Tree Story, on Twitter

An eye-opening visual look at the assumptions and trends that lie beneath how the modern world ticks.…Demography and graphic design meet in an extraordinarily revealing book.
— Kirkus Reviews (starred review)

Atlas of the Invisible takes this literally, with design-heavy info-mapping of cellular connections in the Great Lakes, eviction rates, the ethnicity of immigrants living on South Halsted Street in 1895. A cartographer's dream, and often revelatory.

— Christopher Borrelli - Chicago Tribune

[T]his unique volume.…is designed to inspire readers to act.
— Library Journal

An endlessly fascinating array of insight and analysis.
— Mark Reynolds - Traveller Magazine