Delusions of Gender: How Our Minds, Society, and Neurosexism Create Difference (Paperback)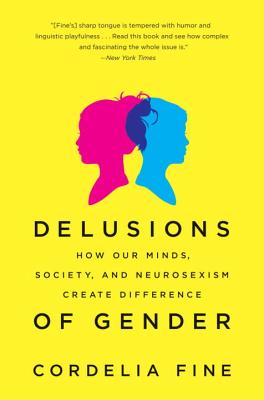 $17.95

Special Order- Usually Ships in 1-5 Days
Description
---
"[Fine's] sharp tongue is tempered with humor. . . . Read this book and see how complex and fascinating the whole issue is."—The New York Times
It's the twenty-first century, and although we tried to rear unisex children—boys who play with dolls and girls who like trucks—we failed. Even though the glass ceiling is cracked, most women stay comfortably beneath it. And everywhere we hear about vitally important "hardwired" differences between male and female brains. The neuroscience that we read about in magazines, newspaper articles, books, and sometimes even scientific journals increasingly tells a tale of two brains, and the result is more often than not a validation of the status quo. Women, it seems, are just too intuitive for math; men too focused for housework.
Drawing on the latest research in neuroscience and psychology, Cordelia Fine debunks the myth of hardwired differences between men's and women's brains, unraveling the evidence behind such claims as men's brains aren't wired for empathy and women's brains aren't made to fix cars. She then goes one step further, offering a very different explanation of the dissimilarities between men's and women's behavior. Instead of a "male brain" and a "female brain," Fine gives us a glimpse of plastic, mutable minds that are continuously influenced by cultural assumptions about gender.
Passionately argued and unfailingly astute,
Delusions of Gender
provides us with a much-needed corrective to the belief that men's and women's brains are intrinsically different—a belief that, as Fine shows with insight and humor, all too often works to the detriment of ourselves and our society.
About the Author
---
Cordelia Fine, an associate professor at the University of Melbourne, is author of the much-acclaimed Delusions of Gender and A Mind of Its Own.
Praise For…
---
Starred Review, Pick of the Week. A fabulous combination of wit, passion, and scholarship. . . . This marvelous and important book will change the way readers view the gendered world.
— Publishers Weekly

Forceful, funny. . . . These are the right questions to be asking.
— Boston Globe

Fine turns the popular science book formula on its head. Chapter-by-chapter, she introduces ideas about innate differences between the sexes… and then tartly smacks around studies supposedly supporting them.
— Dan Vergano - USA Today

[Fine] effectively blows the lid off of old tropes… Weaving together anecdotes, dense research and quotes from numerous experts, she offers a well-balanced testament to the many ways in which cultural rules inform behaviors often mistaken as organic to our brains, as opposed to learned… [An] informative and often surprising study.
— Kirkus Reviews

Cordelia Fine has a first-rate intellect and writing talent to burn. In her new book, Delusions of Gender, she takes aim at the idea that male brains and female brains are 'wired differently,' leading men and women to act in a manner consistent with decades-old gender stereotypes. Armed with penetrating insights, a rapier wit, and a slew of carefully researched facts, Fine lowers her visor, lifts her lance, and attacks this idea full-force. Whether her adversaries can rally their forces and mount a successful counter-attack remains to be seen. What's certain at this point, however, is that in Delusions of Gender Cordelia Fine has struck a terrific first blow against what she calls 'neurosexism.'

— William Ickes, author of Everyday Mind Reading: Understanding What Other People Think and Feel

In Delusions of Gender Cordelia Fine does a magnificent job debunking the so-called science, and especially the brain science, of gender. If you thought there were some inescapable facts about women's minds—some hard wiring that explains poor science and maths performance, or the ability to remember to buy the milk and arrange the holidays—you can put these on the rubbish heap. Instead, Fine shows that there are almost no areas of performance that are not touched by cultural stereotypes. This scholarly book will make you itch to press the delete button on so much nonsense, while being pure fun to read.

— Uta Frith FBA, FMedSci, FRS; Institute of Cognitive Neuroscience, University College London