Speaking in Thumbs: A Psychiatrist Decodes Your Relationship Texts So You Don't Have To (Hardcover)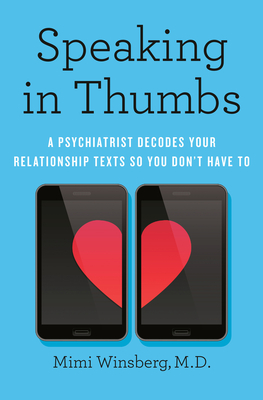 $27.00
Email or call for price.
Description
---
An essential look at the love language of texts, helping you decipher the personalities of online daters, the subtle signals from your romantic partner, and the red flags hiding in plain sight.  "Don't even think of swiping right again until you read this book." (Christie Tate, author of Group)

When it comes to modern relationships, our thumbs do the talking. We swipe right into a stranger's life, flirt inside text bubbles, spill our hearts onto the screen, use emojis to convey desire, frustration, rage. Where once we pored over love letters, now we obsess over response times, or wonder why the three-dot ellipsis came . . . and went.

Nobody knows this better than Dr. Mimi Winsberg. A Harvard- and Stanford-trained psychiatrist, she cofounded a behavioral health startup while serving as resident psychiatrist at Facebook. Her work frequently finds her at the intersection of Big Data and Big Dating. Like all of us, Winsberg has been handed a smartphone accompanied by the urgent plea: "What does this mean?" Unlike all of us, she knows the answer. She is a text whisperer.

Speaking in Thumbs is a lively and indispensable guide to interpreting our most important medium of communication. Drawing from of-the-moment research and a treasure trove of real-life online dating chats, including her own, Winsberg helps you see past the surface and into the heart of the matter. What are the hallmarks of healthy attachment? How do we recognize deception? How can we draw out that important-but-sensitive piece of information--Do you want kids? Do you use drugs? Are you seeing someone else?--without sending a potential partner heading for the hills?

Insightful, timely, and impossible to put down, Speaking in Thumbs is an irresistible guide to the language of love. With wit and compassion, Winsberg empowers you to find and maintain real connection by reading between the lines.
About the Author
---
MIMI WINSBERG is a Stanford-trained psychiatrist with twenty-five years of clinical experience. She is a cofounder of the telehealth startup Brightside and has been the on-site psychiatrist at the Facebook Wellness Center. Winsberg appears regularly on Good Morning America, and her work has been featured in GQ, Glamour, Fast Company, Bloomberg BusinessWeek, and Business Insider. She has a B.A. in Neuroscience from Harvard College. Speaking in Thumbs is her first book.
Praise For…
---
"Mimi Winsberg's Speaking in Thumbs is an entertaining, essential, and ultimately practical guide for anyone navigating the most vexing feature of modern romance: text messages. Winsberg has compiled research and real-life examples, including texts from her own life, to help readers spot red flags, discern compatibility, and recognize where they are pushing potential partners away. By analyzing texts from the entire life cycle of a romance-- from initial exchanges to the gut-wrenching end-of-relationship goodbyes-- Winsberg empowers readers to understand both themselves and the people on the other end of their text messages. Winsberg's book entertains as it enlightens, and empowers as it analyzes. Don't even think of swiping right again until you read this book."
—Christie Tate, New York Times bestselling author of Group: How One Therapist and a Circle of Strangers Saved My Life
 
"Mimi Winsberg uses her incredible knowledge and research to help us understand that communication is a practice and vital to setting a relationship up for success."
—Eve Rodsky, New York Times bestselling author of Fair Play: A Game-Changing Solution for When You Have Too

"Expertly cuts right through the confusion of modern dating. A fantastic guide for anyone looking for real connection, but struggling to understand what messages really mean."
—Thomas Erikson, author of Surrounded by Idiots