The Accidental Universe: The World You Thought You Knew (Paperback)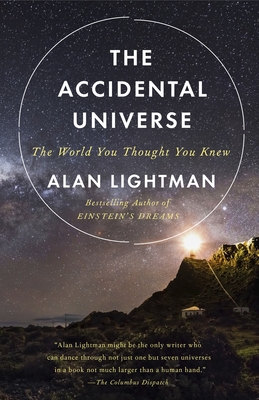 $15.00

Special Order- Usually Ships in 1-5 Days
Description
---
With passion and curiosity, Alan Lightman explores the emotional and philosophical questions raised by recent discoveries in science. He looks at the dialogue between science and religion; the conflict between our human desire for permanence and the impermanence of nature; the possibility that our universe is simply an accident; the manner in which modern technology has separated us from direct experience of the world; and our resistance to the view that our bodies and minds can be explained by scientific logic and laws.

Behind all of these considerations is the suggestion--at once haunting and exhilarating--that what we see and understand of the world is only a tiny piece of the extraordinary, perhaps unfathomable whole. 
About the Author
---
Alan Lightman is the author of six novels, including the international bestseller Einstein's Dreams and The Diagnosis, which was a National Book Award finalist. He is also the author of two collections of essays and several books on science. His work has appeared in The Atlantic, Granta, Harper's Magazine, The New Yorker, The New York Review of Books, and Nature, among other publications. A theoretical physicist as well as a writer, he has served on the faculties of Harvard and MIT, where he was the first person to receive a dual faculty appointment in science and the humanities. He lives in the Boston area.
Praise For…
---
"Alan Lightman might be the only writer who can dance through not just one but seven universes in a book not much larger than a human hand."
     —The Columbus Dispatch

"Engaging. . . . While this lively, lyrical book examines some of the major scientific thinking of our time, it also celebrates the human drive to make sense of it all." 
     —Portland Press Herald

"Any reader will enjoy pondering, through well-organized and graceful prose, what can be objectively proven about the world in which we live and what remains a mystery." 
     —The Boston Globe

"Lightman has an appealing humility and affection for the mysterious, and an even more attractive compassion for humans, with their short lives and big questions."
     --The Columbus Dispatch

"Lightman is one of the few physicists who can name-check the Dalai Lama, astronomer Henrietta Leavitt, Dostoevsky, and dark energy in the same work, while deftly guiding readers through discussions of modern physics and philosophy. Here he has composed a thoughtful, straightforward collection of essays that invite readers to think deeply about the world around them." 
     —Publishers Weekly, starred review

"Alan Lightman . . . has written not so much about cosmology as his title might imply but about our direct, subjective experience with it . . . . We are not observers on the outside looking in. We are on the inside too."
     —New York Journal of Books

"This MIT physicist-turned-bestselling author is one of the nation's top science writers, exploring the intersection of science and culture. That he used to teach physics in the morning, and creative writing in the afternoon is all the recommendation you need. . . . Lightman [is] an able and charming tour guide. . . . The Accidental Universe portrays a physicist who not only observes his environment, but interacts with it, as well." 
     —Portland Press Herald

"As he's demonstrated in highly original novels like Einstein's Dreams and Mr g, Alan Lightman possesses the mind of a theoretical physicist and the soul of an artist. . . . He offers intriguing glimpses of how the gulf we too often perceive between science and the rest of life might be bridged." 
     —Shelf Awareness

"Elegantly provocative. . . . Lightman celebrates our grand quest for knowledge and takes measure of the challenges our discoveries deliver." 
     —Booklist