The Art of Computer Virus Research and Defense (Paperback)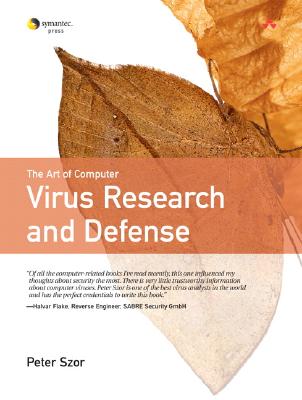 $54.99
Email or call for price.
Description
---
Peter Szor takes you behind the scenes of anti-virus research, showing howthey are analyzed, how they spread, and--most importantly--how to effectivelydefend against them. This book offers an encyclopedic treatment of thecomputer virus, including: a history of computer viruses, virus behavior, classification, protection strategies, anti-virus and worm-blocking techniques, and how to conduct an accurate threat analysis. The Art of Computer VirusResearch and Defense entertains readers with its look at anti-virus research, butmore importantly it truly arms them in the fight against computer viruses.As one of the lead researchers behind Norton AntiVirus, the most popularantivirus program in the industry, Peter Szor studies viruses every day. Byshowing how viruses really work, this book will help security professionals andstudents protect against them, recognize them, and analyze and limit thedamage they can do.
About the Author
---
Peter Szor is security architect for Symantec Security Response, where he has been designing and building antivirus technologies for the Norton AntiVirus product line since 1999. From 1990 to 1995, Szor wrote and maintained his own antivirus program, Pasteur. A renowned computer virus and security researcher, Szor speaks frequently at the Virus Bulletin, EICAR, ICSA, and RSA conferences, as well as the USENIX Security Symposium. He currently serves on the advisory board of Virus Bulletin magazine, and is a founding member of the AVED (AntiVirus Emergency Discussion) network. (c) Copyright Pearson Education. All rights reserved.