Palo Alto: A History of California, Capitalism, and the World (Hardcover)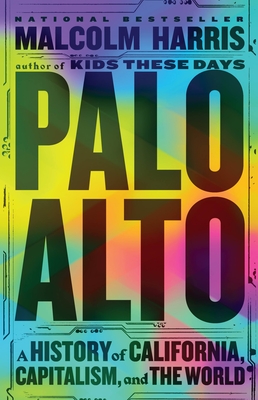 $36.00

Special Order- Usually Ships in 1-5 Days
Description
---
NATIONAL BESTSELLER
"Welcome and necessary…illuminating and revelatory." – The New Yorker

The history of Silicon Valley, from railroads to microchips, is an "extraordinary"* story of disruption and destruction, told for the first time in this comprehensive, jaw-dropping narrative. (*Greg Grandin, Pulitzer Prize-winning author of The End of the Myth)
Palo Alto's weather is temperate, its people are educated and enterprising, its corporations are spiritually and materially ambitious and demonstrably world-changing. Palo Alto is also a haunted toxic waste dump built on stolen Indian burial grounds, and an integral part of the capitalist world system.

In PALO ALTO, the first comprehensive, global history of Silicon Valley, Malcolm Harris examines how and why Northern California evolved in the particular, consequential way it did, tracing the ideologies, technologies, and policies that have been engineered there over the course of 150 years of Anglo settler colonialism, from IQ tests to the "tragedy of the commons," racial genetics, and "broken windows" theory. The Internet and computers, too. It's a story about how a small American suburb became a powerful engine for economic growth and war, and how it came to lead the world into a surprisingly disastrous 21st century. PALO ALTO is an urgent and visionary history of the way we live now, one that ends with a clear-eyed, radical proposition for how we might begin to change course.
About the Author
---
Malcolm Harris is a freelance writer and the author of Kids These Days: The Making of Millennials and Shit is Fucked Up and Bullshit: History Since the End of History. He was born in Santa Cruz, CA and graduated from the University of Maryland.
Praise For…
---
One of THE NEW YORK TIMES's Most Anticipated Books of 2023
One of SALON's Best Books of 2023
One of BLOOMBERG's Best Books of 2023
One of THE NEXT BIG IDEA CLUB's Must-Read Books of 2023
One of VULTURE's, LA TIMES, ESQUIRE, NYLON, ALTA, THE MILLIONS' and LITERARY HUB's Most Anticipated Books of 2023
"Malcolm Harris's
singular and brilliant
PALO ALTO is a geologic survey of the bedrock of the imperial violence that lies beneath the surface of some of the country's wealthiest ZIP Codes.  The formations it follows stretch outward across the globe, to Asia, Europe, across the Americas and to the rest of the United States.  In the end, the book provides not so much an account of strict cause and effect—the familiar history of the robber barons and tech tycoons—but a core sample of the thorough-going greed and pillage at the heart of American history: the expropriation, the violence, and the guilt that seep upward through the soil of neoliberalism's most fruitful plain."—
Walter Johnson, Winthrop Professor of History and African American Studies at Harvard University and author of The Broken Heart of America
"Extraordinary. In lucid, personal, often funny, and always insightful prose, Malcolm Harris finds the driving thrust of reaction not in capitalism's left-behind regions but in its vanguard: California, and specifically Silicon Valley.  We have not yet felt the full force of the shit storm that the titans of tech have been conjuring. We soon will.  If you want to understand what's coming, you need to read this book."
—
Greg Grandin, Pulitzer Prize-winning author of The End of Myth
"Harris's earlier book
Kids These Days
was a broad cultural history of millennials, zeroing in on the unfair economic stereotypes that have dogged the generation. Now, he tells an ambitious story of Silicon Valley, showing how its specific culture and history allowed it to become the site of both breathtaking technological advancement and capitalist exploitation."—
Joumana Khatib
,
THE NEW YORK TIMES
"Engaging and unsettling."—
Bethanne Patrick
,
LA TIMES, Most Anticipated Books of February 2023
"Harris's writing is astute and clear, accessible but never watered down. Like Silicon Valley, this book promises a lot, but unlike Silicon Valley, Harris is far more likely to deliver with this 'radical proposition for how we might begin to change course' to escape from the wasteland of technological progress."—
Isle McElroy
,
VULTURE
"A searching history of California and its role in predatory, extractive capitalism…[Harris] proposes a program of divestiture and restitution, including 'the forfeit of Stanford's vast accumulated wealth,' that is breathtaking in its audacity…highly readable, sharply argued and well researched."
—
KIRKUS REVIEWS, Starred Review
"Malcolm Harris traces exactly how Silicon Valley was built – from its origin as a haunted toxic waste dump built on stolen Native burial grounds to the powerful and often disastrous tech engine it is today."—
NYLON, Must Read Books of February 2023
"A monumental work of research and imagination, 
Palo Alto
 is destined to sit on a high shelf next to other unforgettable works of national history."—
Adrienne Westenfeld
,
ESQUIRE, Best Books of 2023
"From 19th-century railroad barons to the counterculture capitalists of the 1970s, Harris tells a story of wanton hubris and curdled idealism, one that seeks to account for the global rise—in tech, in war, in capitalism—of an otherwise forgettably pleasant suburb of San Jose."—
Jonny Diamond
,
Literary Hub, Most Anticipated Books of 2023
"Harris painstakingly connects literature, geography, and economics to understand Palo Alto's history and its relationship to capitalism…Readers interested in U.S. history, particularly pertaining to capitalism and technology, will find an engaging and clear-eyed Silicon Valley tale of a small city with global importance."—
BOOKLIST
"Harris's comprehensive history of Silicon Valley, from railroad capitalism to free love to big tech, does just that.
Palo Alto
spans centuries in order to
thoroughly demystifying the region's economics and unearth its enduring legacy of settler colonialism
."—
THE MILLIONS, Most Anticipated Books of 2023
"Harris traces over a hundred years of colonialism to explore how this unlikely suburb became the mecca for the digital gold rush.
This book's time is definitely now
."—
Alison Stine
,
SALON, Best Books of 2023
"With this powerfully written and deftly articulated treatise, Harris has produced a comprehensive look at how Silicon Valley grew into the all-consuming power center it is today."—
ALTA, Most Anticipated Books of 2023
"a rollicking 600+ history that runs the gamut from antiwar movements to racial genetics to the Hewlett Packard garage."—
MIT Technology Review
"It feels wild to call this 720-page tome 'immensely readable,' but it is! Harris has deeply researched and developed his analysis of 170 years of history, and synthesizes it with skill into prose that's both understandable and a joy to read."—
Michelle C.
,
Powell's Books
"In
Palo Alto
, Malcolm Harris gives us a comprehensive deep-dive into the history of the Silicon Valley. From stomping on the Indigenous peoples, to immigration, railroading, the gold rush, and all of the other elements found in the history of Northern California, we learn when, how and why certain people came to power and what they did with that power… This is a long read, but well worth the time and effort. So much to learn on these pages!"—
Auntie's Bookstore (Spokane, Washington)
"For a book whose concepts include global examples, 
Palo Alto 
exhibits mastery of local places...Harris has a planner's ingenuity for the relationship between place and people, but a broader worldview than most of us. Even local issues have global ramifications, and vice-versa."—
Asher Kohn
,
APA California Northern Section
"[Harris] retains a keen eye for the cultural and economic hallmarks and exports of his famous hometown. . . [
Palo Alto
] feels like the culmination of his upbringing and career. It's a stunning, Technicolor anvil of a book. . . 
Palo Alto
nonetheless manages to tell a story that is grand in its scope, startling in its specifics, and ingenious in the connections it draws."—
Scott W. Stern
,
THE NEW REPUBLIC
"
Palo Alto 
is a skeptic's record, a vital, critical demonstration of Northern California's two centuries of mixing technology and cruelty for money…Even while attending to larger patterns, [the book] studiously works through the town's history by focusing on its most famous and influential residents.…conviction and research burn through the page and give coherence and urgency to a daunting subject."—
Federico Perelmulter
,
THE WASHINGTON POST
"Part history book, part indictment of an American idyll fueled by environmental destruction, racism and dubious business practices,
Palo Alto
is a valuable contribution to the city's mythology."—
James Tarmy
,
BLOOMBERG, Best Books of 2023
"It's a sprawling tale, covering juicy stories…Harris handles it all with dizzying detail and charmingly loopy metaphors…Harris describes himself as a communist, and that analysis is peppered through the text, but he has a knack for boiling down complicated dynamics to their blunt basics."—
Sam Dean
,
LOS ANGELES TIMES
"For a guy who loathes capitalism, Harris writes about the subject with vivid depth."—
Chris Vognar
,
SAN FRANCISCO CHRONICLE
"Palo Alto lives up to its description, but it's also so much more—in these whopping 720 pages, you'll find nothing short of an exhaustive history of American capitalism. Harris deftly charts the long shadow of extraction in northern California…"—
Adrienne Westenfeld
,
ESQUIRE
"Provocative, damning…Harris busts the myths about his hometown's vast history, and how its reputation is nothing more than deceptive."—
Yannise Jean
,
FAST COMPANY
"We don't love civilizational collapse brought on by tech chodes like Elon and Zuck and Jeff and Bill, but Valentine's Day has to do with love (and capitalism), and
Palo Alto
comes out on February 14, so it all works out. We're both swooning
and
pulling out our wallets."—
Adam Willems
,
THE STRANGER
"...a staggering exploration of the historical forces that shaped the technological mecca of Silicon Valley...Harris is approachable, yet unrelenting. His subjects are as inspiring as they are insidious. The depth of his research unveils plentiful connective tissues between capitalism and exploitation, agriculture and organizing, start-ups and psychedelics, as well as the communists and labor leaders that attempted to subvert the malevolence of the ruling class."—
Ryan Baesemann
,
CLEVELAND REVIEW OF BOOKS
"Both the earnestness and the acidity of Harris's prose can be read as signs of an effortful articulation of the historical reality of what has been called 'the Californian ideology,'….at once so detailed and so ambitious…Harris's book offers no end to this tale, only the possibilities for thought and action that spring from its symbolic parricide."—
Ben Beitler
,
LOS ANGELES REVIEW OF BOOKS
"Sweeping…the book's expansive social history is more about how Palo Alto changed the world than it is about the suburb itself….The beauty of this sprawling book is that, although you can open it anywhere and begin reading, its scope draws connections over a vast period of time."—
Scott Feeney
,
THE DEMOCRATIC LEFT
"Harris avoids a propagandic tone by working from historical points that are objectively true — Palo Alto has become the most consequential suburb in the world, we live in a capitalist world system — and connecting dots throughout history that not only create a picture of California, but also offer persuasive explanations for why California looks the way it does, wields the power it has and espouses the toxic achievement philosophies that have become its trademark and albatross…"—
Naomi Elias
,
KQED Arts
"
Palo Alto
reads at times like a novel by Thomas Pynchon, a psychedelic romp through Silicon Valley office parks and Central Valley union halls, Chinese iPhone factories and Afghan battlefields. The paths can be difficult to follow, but the patient traveler hoping to learn more about any one of California's many gold rushes will be rewarded."—
Benjamin Schneider
,
SAN FRANCISCO EXAMINER
"In these lively pages, Malcolm Harris provides counterweight to that modern mythology, painting a far more detailed and complicated picture of the entire region, and exploring the social and economic inequalities that are often glossed over in other accounts."—
CHRISTIAN SCIENCE MONITOR, 10 Best Books of February
"Harris' book—written in engaging prose while filling more than 700 pages—represents both an overdue corrective and a compelling counternarrative. Offering nothing less than what its subtitle suggests—a comprehensive origin story of modern capitalism."—
Luke Savage
,
SMITHSONIAN MAGAZINE
"If you're looking for a beautifully written, continually surprising, deeply researched book about why so much of life is, on balance, so f**ked up
right now, get your hands on [
Palo Alto
]."—
BLACKBIRD SPYPLANE
"A useful counter to Silicon Valley's self-mythologizing, this history of Palo Alto begins in the late nineteenth century, with the state-funded genocide of Alta Indians by settlers and the coming of the railroad, which led, via the fortune of Leland Stanford, to the establishment of Stanford University ('the pseudostate governing Palo Alto'). Harris highlights the city's connection to the horrors of napalm, Japanese internment, and eugenics, and notes that many of the early tech companies in the area began 'in the space between the military and academia.'"—
THE NEW YORKER
"Engrossing. Harris has an engaging narrative voice and a marvelous command of language despite his propensity for peppering his work with expletives."—
Leonora Cravotta
,
THE AMERICAN SPECTATOR
"Epic…
Palo Alto
is crystalizing…not only for a generation of Americans, but for any citizen of the world who wishes to understand their situation in order to change it."—
Adrian Chen
,
INTERVIEW MAGAZINE
"The question driving Malcolm Harris's inquisition into the flashy hollowness of Silicon Valley—predicated upon exploitation, grotesque inequality, and a total disavowal of the public good—becomes more urgent than ever: 'How does the Palo Alto System end without taking the rest of the transformed world down with it?'"—
David Helps
,
PROTEAN MAGAZINE
"Poignant…Harris compellingly shows that one of the distinctive historical faults of California was the oppression of Asian-Americans….Readers who can withstand, or enjoy, Harris's ideological bludgeon will learn some things about the region…Harris's explanations of scientific advances are detailed and punchy."—
Jason Willick
,
WASHINGTON EXAMINER
"[A] welcome and necessary new book…illuminating and revelatory. Triple exclamation points, and skull and crossbones—doodles to which I rarely resort—pepper the margins of my copy…I couldn't stop reading…By the end of the book, Harris has mounted a largely persuasive and extremely damning argument."—
David Leavitt
,
THE NEW YORKER
"Readers will relish
Palo Alto
for its scope and precision, for its pugnaciousness, and for its sardonic amazement at an emperor who couldn't be strolling down the avenue any nakeder. There's a brute glee is Harris's version of historical materialism; even the book's title eschews metaphor and abstraction.
Harris has done the hard work, and he has done it in a cause: to urge us awake from our capitalist-technological inertial dream state.
The truth may sometimes hurt, but the lies are in bed with collective death."—
Jonathan Lethem
,
THE NATION
"Deeply researched and richly detailed,
Palo Alto
is a prehistory of today's all-too-familiar Valley of oligarchs and Big Brother brogrammers who seem to taint everything they touch…Unlike related critiques of Silicon Valley, which usually highlight its libertarian and dystopian dimensions,
Palo Alto
is a takedown grounded in the long-term history of an actual place."—
Ross Perlin
,
THE ATLANTIC
"Harris lands his ambitious claims alarmingly convincingly...the chains of connection that Harris traces accumulate gradually into a web of persuasive and often shocking revelation that this wealthy Bay Area enclave really might be the economic, cultural, and moral epicenter of our universe—less a shining city on a hill than a hideous Lovecraftian maw."—
Michael Docherty
,
LOS ANGELES REVIEW OF BOOKS
"[
Palo Alto
] is an urgent and visionary history of the way we live now, one that ends with a clear-eyed, radical proposition for how we might begin to change course."—
Annalee Newitz
,
SCIENCE FRIDAY
"[Harris's] ability to make complex, thorny topics highly readable makes him a must-read; [
Palo Alto
] is a tour de force."—
ASK MEN
"
Palo Alto
 reads like a big social novel in the tradition of John Dos Passos . . . The picture Harris presents of the valley is more complete than any attempted thus far."—
Ben Tarnoff
,
THE NEW YORK REVIEW OF BOOKS