Children of Memory (Children of Time #3) (Paperback)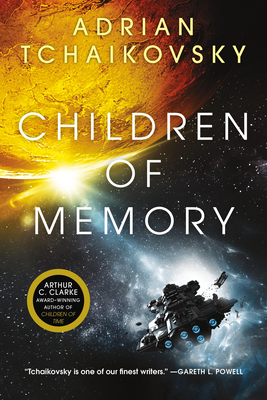 $19.99

Special Order- Usually Ships in 1-5 Days
Other Books in Series
This is book number 3 in the Children of Time series.
Description
---
Winner of the 2023 Hugo Award for Best Series! 

The modern classic of space opera that began with Children of Time continues in this extraordinary novel of humanity's battle for survival on a terraformed planet.

Earth failed. In a desperate bid to escape, the spaceship Enkidu and its captain, Heorest Holt, carried its precious human cargo to a potential new paradise. Generations later, this fragile colony has managed to survive, eking out a hardy existence. Yet life is tough, and much technological knowledge has been lost.

Then strangers appear. They possess unparalleled knowledge and thrilling technology – and they've arrived from another world to help humanity's colonies. But not all is as it seems, and the price of the strangers' help may be the colony itself.

Children of Memory by Arthur C. Clarke Award-winning author Adrian Tchaikovsky is a far-reaching space opera spanning generations, species and galaxies.
About the Author
---
Adrian Tchaikovsky was born in Woodhall Spa, Lincolnshire, and headed off to university in Reading to study psychology and zoology. For reasons unclear even to himself, he subsequently ended up in law. Adrian has since worked as a legal executive in both Reading and Leeds and now writes full time. He also lives in Leeds, with his wife and son. Adrian is a keen live role-player and occasional amateur actor. He has also trained in stage-fighting and keeps no exotic or dangerous pets of any kind -- possibly excepting his son.
Praise For…
---
"All I can say is hold on for the ride. This is an author who dives head first into Asimov-esque ideas, and who is willing to take the plot in fanciful directions...This finale is worth your time."—Polygon

"Intensely detailed and handily researched, Tchaikovsky's saga creates a deeply immersive narrative."—Booklist, on Children of Ruin

"A novel of sublime plot twists and spectacular set pieces, all underpinned by great ideas. And it is crisply modern―but with the sensibility of classic science fiction. Asimov or Clarke might have written this. A hugely satisfying sequel." —Stephen Baxter, on Children of Ruin

"Magnificent. This is the big stuff―the really big stuff. Rich in wisdom and Humanity (note the 'H'), with a Stapledonian sweep and grandeur. Books like this are why we read science-fiction."—Ian McDonald, on Children of Ruin

"Children of Ruin is wonderful―big, thinky SF that feels classic without being mired in the past, absolutely crammed with fun ideas. Anyone who likes sweeping, evolutionary-scale stories will love this."—Django Wexler, on Children of Ruin

"Children of Time is a joy from start to finish. Entertaining, smart, surprising and unexpectedly human."—Patrick Ness, on Children of Time

"Brilliant science fiction and far out world building."—James McAvoy on Children of Time

"A refreshingly new take on post-dystopia civilizations, with the smartest evolutionary worldbuilding you'll ever read."—Peter F Hamilton on Children of Time