Aurora Rising (Paperback)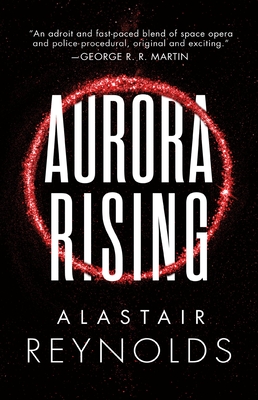 $16.99

Special Order- Usually Ships in 1-5 Days
Other Books in Series
This is book number 1 in the The Prefect Dreyfus Emergencies series.
Description
---
Award-winning author Alastair Reynolds creates "a fascinating hybrid of space opera, police procedural and character study" (Publishers Weekly) with this novel set in the Revelation Space universe.
Tom Dreyfus is a Prefect, a law enforcement officer with the Panoply. His beat is the Glitter Band, that vast swirl of space habitats orbiting the planet Yellowstone, the teeming hub of a human interstellar empire spanning many worlds.
His current case: investigating a murderous attack against one of the habitats that leaves nine hundred people dead. But his investigation uncovers something far more serious than mass slaughter -- a covert plot by an enigmatic entity who seeks nothing less than total control of the Glitter Band.
About the Author
---
Alastair Reynolds was born in Barry, South Wales, in 1966. He studied at Newcastle and St. Andrews Universities and has a Ph.D. in astronomy. he stopped working as an astrophysicist for the European Space Agency to become a full-time writer. Revelation Space and Pushing Ice were shortlisted for the Arthur C. Clarke Award; Revelation Space, Absolution Gap, Diamond Dogs, and Century Rain were shortlisted for the British Science Fiction Award, and Chasm City won the British Science Fiction Award.
Praise For…
---
"This is solid British SF adventure, evoking echoes of le Carre and Sayers with a liberal dash of Doctor Who."—Publishers Weekly on The Prefect

"Absorbing...gripping in the extreme...A fine provocative portrait of utopia on the brink. The relentless narrative momentum it employs simply underscores the pertinent urgency of that topic. The resulting mixture of space opera and police procedure is sublime entertainment."—Locus on The Prefect

"[A] magnificently imagined world."—Booklist on The Prefect

"Alastair Reynolds has developed real skill in mixing a detective investigation mystery with a background that is as thoroughly hard science as anybody's...Eminently satisfying."—SF Site on The Prefect

"An adroit and fast-paced blend of space opera and police procedural, original and exciting."—George R. R. Martin