The Nation Guide to the Nation (Paperback)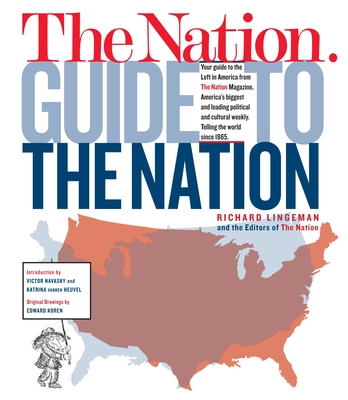 $19.95
Email or call for price.
Description
---
The essential lifestyle guide for the millions of progressives on both coasts, The Nation Guide to The Nation will help left-of-center types find left-leaning shops, cultural institutions, and gathering places in their own hometowns and on the road.

CULTURAL: Art collectives / activist documentaries / political circuses / film festivals / writers' colonies / left-brained bookstores / arts advocacy groups / indie book publishers / the 25 greatest political movies / detective stories for liberals

SOCIAL: Organic and slow food restaurants / political saloons and bars / bookshop cafés and conversational coffeehouses / sexy singles meet-ups / reading clubs and discussion groups / camps for radical kids / parades and festivals / parks and preserves

ENVIRONMENTAL: Activist groups / monkey wrenchers and sea shepherds / eco-friendly products / favorite green markets / super co-ops / eco-tourism / farm communes / energy solutions

ORGANIZATIONS: Peace and anti-nuclear / feminist / GLBT / economic policy / immigrant rights / labor issues / campaign finance reform / civil liberties / radical mouthpieces / liberal think tanks

MEDIA: Left-talk radio / press watchdogs / anti-corporate media / regional and local papers / alternative weeklies / a guide to the blogosphere

GOODS AND SERVICES: Natural food stores / no-sweat clothing / socially conscious mutual funds / political tours / eco-beers and hemp pretzels / funeral homes and cemeteries (for a green send-off!)
About the Author
---
Editor Richard Lingeman is the former longtime executive editor of The Nation and a biographer, historian, and satirist. Consulting editor Katrina vanden Heuvel is editor and publisher of The Nation. Consulting editor Victor Navasky is former editor and publisher emeritus of The Nation.