Racial Erotics: Gay Men of Color, Sexual Racism, and the Politics of Desire (Paperback)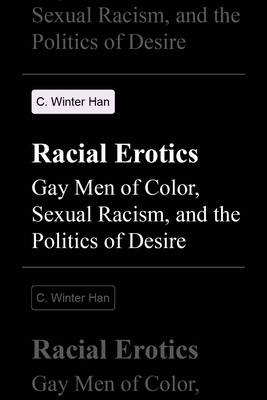 $34.50
Email or call for price.
Description
---
Sexual desire, often understood as personal erotic preference, is frequently seen as neutral, natural, or inevitable. Countering these commonplace assumptions, Racial Erotics shows how sexual partnering within communities of gay men is deeply embedded within larger social structures that define whiteness as desirable and normative while othering men of color. In queer erotic economies this othering may take the form of sexual rejection or fetishization of men of color, but C. Winter Han argues that the real danger of sexual racism is that it creates a hierarchy of racial worth that extends outside of erotic encounters into the everyday lives of gay men of color. In this way, sexual racism perpetuates a larger project of racial erasing that equates gayness with whiteness to secure acceptance for gay white men at the expense of queers of color.
With vivid examples from interviews, media representations, and online dating sites, Han highlights the creative means through which gay men of color, cordoned off in spaces both gay and straight, produce alternative frameworks to combat dominant narratives. Racial Erotics offers a new paradigm for understanding the connection of race and queer desire, demonstrating how race profoundly shapes sexual desires among men while racialized notions of desire construct beliefs about belonging.
About the Author
---
C. Winter Han is associate professor of sociology at Middlebury College and author of Geisha of a Different Kind: Race and Sexuality in Gayasian America.