A Christmas Cornucopia: The Hidden Stories Behind Our Yuletide Traditions (Hardcover)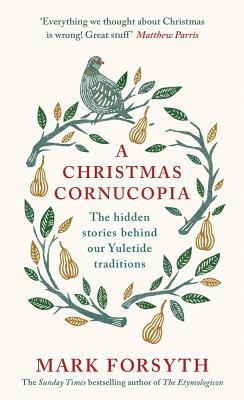 $16.95
Email or call for price.
Description
---
For something that happens every year of our lives, we really don't know much about Christmas. We don't know that the date we celebrate was chosen by a madman, or that Christmas, etymologically speaking, means "Go away, Christ." Nor do we know that Christmas was first celebrated in 243 AD on March 28—and only moved to December 25 in 354 AD. We're oblivious to the fact that the advent calendar was actually invented by a Munich housewife to stop her children pestering her for a Christmas countdown. And we would never have guessed that the invention of Christmas crackers was merely a way of popularizing sweet wrappers. Luckily, Mark Forsyth is here to unwrap this fundamentally funny gallimaufry of traditions and oddities, making it all finally make sense—in his wonderfully entertaining wordy way.
About the Author
---
Mark Forsyth is the author of The Etymologicon and The Horologicon. 
Praise For…
---
"Witty and revelatory. Blooming brilliant." —Raymond Briggs

"Everything we ever thought about Christmas is wrong! Great stuff." —Matthew Parris

"Mark imparts knowledge about Christmas traditions from the essential to the (very) abstruse in wry and sardonic style. An effortless and enjoyable way to learn more about this fulcrum of our calendar." —Paul Smiddy, Former Head of pan-European retail research, HSBC

"Rather strangely for a book about Christmas, I could read this all year round. Lyrical and full of joy, it will definitely be in stockings round our house this December." —Bryony Gordon, author, The Wrong Knickers

"Mark Forsyth wears his considerable knowledge lightly. He also writes beautifully." —Guardian on The Elements of Eloquence


"With his casual elegance and melodious voice, Mark Forsyth has an anachronistic charm totally at odds with the 21st century." —Sunday Times South Africa on The Horologicon


"This year's must-have stocking filler . . . the essential addition to the library in the smallest room is Mark Forsyth's The Etymologicon." —Guardian on The Etymologicon


"[The Etymologicon is] a perfect bit of stocking filler for the bookish member of the family, or just a cracking all-year-round-read. Highly recommended." —Spectator on The Etymologicon


"As good as promised—could have been thrice as long." —Ben Schott on The Elements of Eloquence