The Face of Peace: Government Pedagogy amid Disinformation in Colombia (Paperback)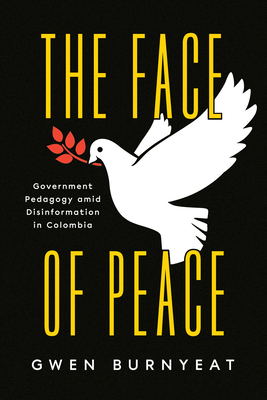 $40.25

Special Order- Usually Ships in 1-5 Days
Description
---
A multi-scale ethnography of government pedagogy in Colombia and its impact on peace. 

Colombia's 2016 peace agreement with the FARC guerrillas sought to end fifty years of war and won President Juan Manuel Santos the Nobel Peace Prize. Yet Colombian society rejected it in a polarizing referendum, amid an emotive disinformation campaign. Gwen Burnyeat joined the Office of the High Commissioner for Peace, the government institution responsible for peace negotiations, to observe and participate in an innovative "peace pedagogy" strategy to explain the agreement to Colombian society. Burnyeat's multi-scale ethnography reveals the challenges government officials experienced communicating with skeptical audiences and translating the peace process for public opinion. She argues that the fatal flaw in the peace process lay in government-society relations, enmeshed in culturally liberal logics and shaped by the politics of international donors. The Face of Peace offers the Colombian case as a mirror to the global crisis of liberalism, shattering the fantasy of rationality that haunts liberal responses to "post-truth" politics.
About the Author
---
Gwen Burnyeat is a junior research fellow in anthropology at Merton College, University of Oxford. She is the author of Chocolate, Politics, and Peace-Building.
Praise For…
---
"This remarkable book combines sensitive ethnography, brave and imaginative analysis, and considerable passion to tell a story for our times about the failures of liberal peace-making in Colombia and the seemingly unbridgeable divide between the state and ordinary people. Its brilliant analysis of liberalism's limitations provides sparks of hope for a more humane political future."
— Jonathan Spencer, University of Edinburgh

"This brilliant first-of-its-kind anthropological study of peace pedagogy draws lessons for lasting peace even in deeply polarized societies such as Colombia. It is highly recommended to those familiar with Colombia's peace process and those considering how to adopt effective peace processes in other countries."
— Leigh A. Payne, University of Oxford

"A riveting inside story of the interface between government and the public with an extraordinary breadth of empirical data and a rich resource of lessons learned about countering disinformation. A must-read for all who seek to build better, more holistic narratives of peace in the current context of toxic polarization."
— John Paul Lederach, emeritus, University of Notre Dame

"Burnyeat emphasizes the concept of 'cultural liberalism'as a descriptor for the government's approach to politics and many of those working for peace. . . The work is informed not only by the results of the plebiscite but by how the regime of President Duque weakened the peace agreement and the promises it contained. . . Recommended." 
— Choice