The Advent of the Algorithm: The 300-Year Journey from an Idea to the Computer (Paperback)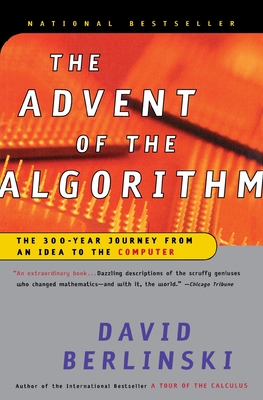 $20.95
Usually Ships in 1-5 Days
Description
---
Simply put, an algorithm is a set of instructions-it's the code that makes computers run. A basic idea that proved elusive for hundreds of years and bent the minds of the greatest thinkers in the world, the algorithm is what made the modern world possible. Without the algorithm, there would have been no computer, no Internet, no virtual reality, no e-mail, or any other technological advance that we rely on every day.
In The Advent of the Algorithm, David Berlinski combines science, history, and math to explain and explore the intriguing story of how the algorithm was finally discovered by a succession of mathematicians and logicians, and how this paved the way for the digital age. Beginning with Leibniz and culminating in the middle of the twentieth century with the groundbreaking work of Gödel and Turing, The Advent of the Algorithm is an epic tale told with clarity and imaginative brilliance.


About the Author
---
David Berlinski is the author of three novels and four works of nonfiction, including the bestselling A Tour of the Calculus. Berlinski received his Ph.D. from Princeton University and is a regular contributor to Commentary and Forbes ASAP. He lives in Paris.
Praise For…
---
Praise for The Advent of the Algorithm

"Berlinski has composed energetic, intertwined tales that make it nearly impossible for readers, once drawn in, to lose interest. . . . An uncommon achievement of both style and substance."-Publishers Weekly (starred review)

"A tour de force, this book gives intellectual dilemmas a human face, while restoring grandeur and mystery to a universe still too richly intricate to fit within a computer protocol."-Booklist (starred review)

"An extraordinary book . . . Making simple and accessible that which had previously been murky and intimidating is Berlinski's specialty."-Chicago Tribune