The Beast You Are: Stories (Hardcover)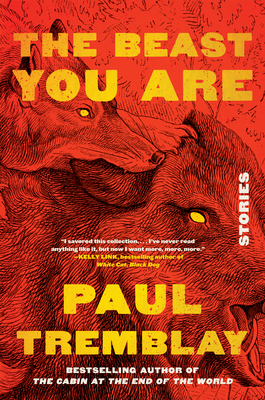 $30.00

Special Order- Usually Ships in 1-5 Days
Description
---
A haunting collection of short fiction from the bestselling author of The Pallbearers Club, A Head Full of Ghosts, and The Cabin at the End of the World.
Paul Tremblay has won widespread acclaim for illuminating the dark horrors of the mind in novels and stories that push the boundaries of storytelling itself. The fifteen pieces in this brilliant collection, The Beast You Are, are all monsters of a kind, ready to loudly (and lovingly) smash through your head and into your heart.
In "The Dead Thing," a middle-schooler struggles to deal with the aftermath of her parents' substance addictions and split. One day, her little brother claims he found a shoebox with "the dead thing" inside. He won't show it to her and he won't let the box out of his sight. In "The Last Conversation," a person wakes in a sterile, white room and begins to receive instructions via intercom from a woman named Anne. When they are finally allowed to leave the room to complete a task, what they find is as shocking as it is heartbreaking.
The title novella, "The Beast You Are," is a mini epic in which the destinies and secrets of a village, a dog, and a cat are intertwined with a giant monster that returns to wreak havoc every thirty years.
A masterpiece of literary horror and psychological suspense, The Beast You Are is a fearlessly imagined collection from one of the most electrifying and innovative writers working today.
About the Author
---
Paul Tremblay has won the Bram Stoker, British Fantasy, and Massachusetts Book awards and is the nationally bestselling author of The Beast You Are, The Pallbearers Club, Survivor Song, Growing Things and Other Stories, Disappearance at Devil's Rock, A Head Full of Ghosts, and the crime novels The Little Sleep and No Sleep Till Wonderland. His novel The Cabin at the End of the World was adapted into the Universal Pictures film Knock at the Cabin. He lives outside Boston with his family.
Praise For…
---
"More than a dozen horror stories—weird, self-referential, expertly told. [The] quirkily magisterial title entry delivers a grim vision of hubris and collective apathy . . . It is all, frankly, riveting. . . . What seems to matter, in all these stories, aren't the specifics of a grisly end but the emotions they conjure, the way they tinge our own reality after we turn the page." — New York Times
"Invigorating . . . Whether he's writing a subtly disarming tale in the manner of Shirley Jackson or a grisly monster story, Tremblay draws well-developed characters whose recognizable humanity makes it easy for readers to accept the weird events happening around them."  — Publishers Weekly (starred review)
"A wonderful collection of short fiction. These 15 gems, polished to perfection, range from straight-up horror to speculative fiction to psychological terror . . . . This one's a must-have." — Booklist (starred review)
"A brilliant, creepy and wildly entertaining collection. By turns surreal, playful, and frightening, with a wondrously nightmarish Orwellian fable to boot, Paul Tremblay is a master storyteller who vividly conjures the monstrous in all its shivery forms." — Mona Awad, author of Bunny and Rouge  
"Inventive, entertaining, and guaranteed to trouble your sleep. I savored this collection—and I'm still thinking about the show-stopping tour-de-force novella in verse, 'The Beast You Are.' I've never read anything like it, but now I want more, more, more." — Kelly Link, bestselling author of White Cat, Black Dog: Stories
"Uncertainty is Tremblay's stock-in-trade. Over the last decade, he has grown from hot new thing to horror icon without compromising on his uniquely inexplicable nightmares."  — Esquire
"Tremblay's greatest gift as a writer may be to both unnerve his reader and break their heart at the same time." — Litreactor
"Paul Tremblay delivers another mind-bending horror novel . . . The Pallbearers Club is a welcome casket of chills to shoulder."  — Washington Post
"Yet another not-to-miss release by the popular and critically acclaimed Tremblay, showcasing a discomfort that is reminiscent of Shirley Jackson but still new and thought-provoking." — Library Journal (starred review)
"A jaunty, character-driven exploration of a complicated friendship, [The Pallbearers Club] is more emotional than [Tremblay's] previous novels, and more innovative. . . . [T]his delightfully morbid and surprisingly emotional horror novel demonstrates Tremblay's literary range." — New York Times
"[A] deliciously confusing thriller." — Weekend Edition (NPR) on The Pallbearers Club
"Melancholy and funny as well as dark and complex, this novel will be the dark hit of the summer. Unique in terms of style and format, The Pallbearers Club occupies a peculiar place between a thriller, a horror novel, and a narrative that will make you question everything."  — Boston Globe