A Voyage for Madmen (Paperback)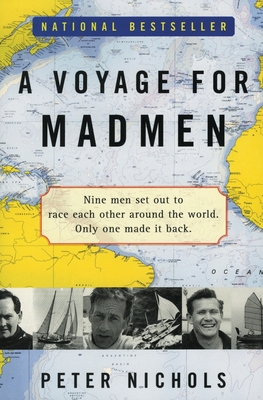 $18.99

Special Order- Usually Ships in 1-5 Days
Description
---
"An extraordinary story of bravery and insanity on the high seas. . . . One of the most gripping sea stories I have ever read." — Sebastian Junger, author of The Perfect Storm
In the tradition of Into Thin Air and The Perfect Storm, comes a breathtaking oceanic adventure about an obsessive desire to test the limits of human endurance.
In 1968 nine sailors set off on the most daring race ever held and never before completed: to single-handedly circumnavigate the globe nonstop. Ten months later, only one of the nine men would cross the finish line and earn fame, wealth, and glory. For the others, the reward was madness, failure, and death.
Gorgeously written and meticulously researched by author Peter Nichols, this extraordinary book chronicles the contest of the individual against the sea, waged at a time before cell phones, satellite dishes, and electronic positioning systems. A Voyage for Madmen is a tale of sailors driven by their own dreams and demons, of horrific storms, and of those riveting moments when a decision means the difference between life and death.
About the Author
---
Peter Nichols is the author of the national bestseller A Voyage for Madmen and two other books, Sea Change: Alone Across the Atlantic in a Wooden Boat, a memoir, and the novel Voyage to the North Star. He has taught creative writing at NYU in Paris and Georgetown University, and presently teaches at Bowdoin College. He is lives in Maine with his wife and son.
Praise For…
---
"An extraordinary story of bravery and insanity on the high seas....One of the most gripping sea stories I have ever read." — Sebastian Junger, author of The Perfect Storm
"A wonderful, terrifying book about aspiration and fallibility, and how success and doom and madness are kept apart from each other by the slenderest of threads." — Richard Rayner, author of The Cloud Sketcher
"Peter Nichols has written a compulsively readable book that has everything a sea story should have. A Voyage For Madmen evokes the uniquely terrifying hazards and demands of the sea and, with a novelist's skill for character and detail, shows how nine single-handed sailors in their puny and inadequate boats undertook the last great maritime feat--the longest, loneliest sea voyage in history--and how, one by one, the sea cut them down. A marvelous book." — Derek Lundy, author of Godforsaken Sea
"[Nichols] is as convincing on seafaring, navigation and weather as Hemingway is on big game hunting and bullfighting." — Publishers Weekly, Starred Review
"[Peter Nichols'] account of the gripping round the world yacht race of 1968 ... could be another Perfect Storm. ... [It] tells of another age of human endeavor and lonely struggle against the sea." — The Bookseller, London
"Laced with suspense ... A well-detailed, fast-paced chronicle of the Sunday Times of London's 1968 Golden Globe Race, in which 9 men attempted to sail nonstop around the world alone." — Kirkus
"A great book that combines the amazing stories of nine lone adventurers into a narrative so seamless that it made me want to drop everything to do what these men did: sail around the world alone. A Voyage For Madmen is a thoroughly exciting account of a historical event that changed how we perceive our world." — Daniel Hays, author of My Old Man and The Sea
"Spellbinding." — Wall Street Journal
"A riveting account of the triumphant human spirit." — Publishers Weekly
"A haunting story...[that] succeeds on the grandest scale." — The Oregonian
"Conveys so vividly...the unmoored passage of time and space while sailors are alone at sea. Few writers are more suited to tell these men's story than Peter Nichols." — New York Times Book Review
"Reads like a suspense novel." — Booklist
"A thrilling saga of courage and competition, a tribute to the fortitude of man." — Cape Codder
"An extraordinary saga...Crisp, unfanciful, evocative and constantly gripping, a story of men pushed up to and beyond their limits." — The Telegraph (London)