The Brewmaster's Table: Discovering the Pleasures of Real Beer with Real Food (Paperback)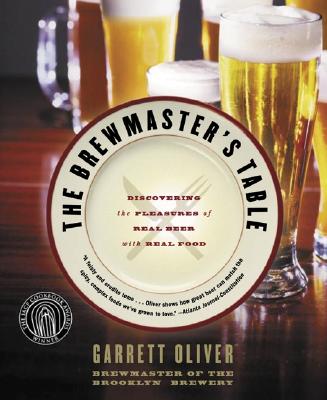 $19.99

Special Order- Usually Ships in 1-5 Days
Description
---
Winner of the International Association of Culinary Professionals' Award for Best Cookbook in the Wine, Beer or Spirits category.
Garrett Oliver, award-winning Brewmaster and Vice President of Production of the Brooklyn Brewery, recognized by Gourmet Magazine as a "passionate epicure and talented alchemist", reveals the full spectrum of flavors contained in the more than 50 distinct styles of beer from around the world.
Most importantly, he shows how beer, which is far more versatile than wine, intensifies flavors when it's appropriately paired with foods to create a dining experience most people have never imagined. Garrett, along with photographer Denton Tillman, traveled throughout Europe visiting fellow brewmasters to trace the beers of the world to their sources. Back in the States, he met with the star chefs he has advised about beer. The resulting book is a motherload of information, lushly illustrated with Tillman's gorgeous photographs of the world's best beers and the breweries that produce them. Above all, THE BREWMASTER'S TABLE is a new way of thinking about beer – one that will bring this under-appreciated brew to the status it deserves.
Whether it's a Belgian wheat beer with a simple salad, a Brooklyn Pilsner to wash down spicy tacos, a pale ale alongside a porcini risotto with foie gras, or even a Framboise to accompany a dark chocolate brownie, beer is the perfect complement to any dining experience, at home in front of the TV or in a four-star restaurant.
He explains how beer is made, shows you its fascinating history, and then leads you through the amazing range of flavors displayed by the dozens of distinct styles of beer from around the world. Finally, he suggests beer pairings that will please your tastebuds and blow your mind.  Whether you're a beer aficionado, a passionate cook, or just someone who loves a great dinner, this book will indeed be a revelation.
About the Author
---
Garrett Oliver, author of
The Brewmaster's Table: Discovering The Pleasures of Real Beer with Real Food
, likens his role as Brewmaster at the award-winning Brooklyn Brewery in New York City to a chef: "The Brewmaster is essentially the chef of the brewery."
Gourmet
magazine described him as "a passionate epicure and talented alchemist."
In Oliver's new book, his expertise about beer is as entertaining and authoritative as his culinary tips, especially in the numerous savory beer and food matchups he recommends. How did Garrett Oliver come by these consuming passions?
After years of amateur brewing inspired by beers he had encountered during a year in England, Garrett Oliver began brewing professionally at Manhattan Brewing Company in 1989. He was appointed Brewmaster there in 1993. He soon became widely known both here and abroad for his flavorful interpretations of traditional brewing styles and as an avid and entertaining lecturer and writer on the subject of fine beer. Garrett has hosted hundreds of beer tastings and dinners, writes regularly for beer and food-related periodicals, and is internationally recognized as an expert on traditional beer styles and their affinity with fine food.
In 1994, Oliver joined The Brooklyn Brewery as Brewmaster and partner. Many of his beers have won national and international awards. He has also served as a judge for the Professional Panel Blind Tasting of the Great American Beer Festival for eleven years, has judged the prestigious Great British Beer Festival competition five times, and the Beverage Industry International Awards twice.
Oliver has hosted tastings and talks for numerous cultural institutions, including the Smithsonian, MassMOCA, and The Jewish Museum. In the United States, Garrett has made numerous radio and television appearances as a spokesman for craft brewing, including segments on NPR, CNN, ABC, PBS, MSNBC, The History Channel, Food Network's "Emeril Live, and CBS' Martha Stewart Living.
Garrett has hosted beer tastings and dinners at many fine restaurants, cooking schools, and food events including dinners at James Beard House, Oceana, The Waldorf-Astoria, the Slow Food Cheese Festival and Salone del Gusto in Piemonte, Italy, The Association of Westchester Country Club Chefs, The American Institute of Wine and Food, The Culinary Institute of America, the Sommelier Society of America, The French Culinary Institute, and Peter Kump's New York Cooking School (now ICE), and the London BAR show. He is a member of the Board of Directors of Slow Food, USA.
Garrett's first book, The Good Beer Book, co-written with Timothy Harper, was published in 1997. Oliver is a graduate of Boston University, and holds a degree in Broadcasting and Film. He is the recipient of the 1998 Russell Schehrer Award for Innovation and Excellence in Brewing, granted by the Institute for Brewing Studies. It is the highest award given within the United States brewing profession.
Praise For…
---
"Beer drinkers of all sorts will happily drift along Oliver's exhaustive tour. " — Publishers Weekly
"Preached by the poet warrior of real beer and real food… The Brewmaster's Table [is] a feisty and erudite tome." — Atlanta Journal-Constitution
"A scholarly and readable book." — Los Angeles Times
"The best and most important book ever written on the subject of pairing food and beer.." — Bob Townsend, Atlanta Journal-Constitution